Announcing: Beautiful new email introductions on Hire my Friend
You, meet your future colleague
By choosenick
We've made some significant updates to the introduction process on Hire my Friend. From now on when you receive a contact request you'll get a beautiful, simple HTML email version of our profile cards right in your inbox, so you can decide if you want to start a conversation more easily.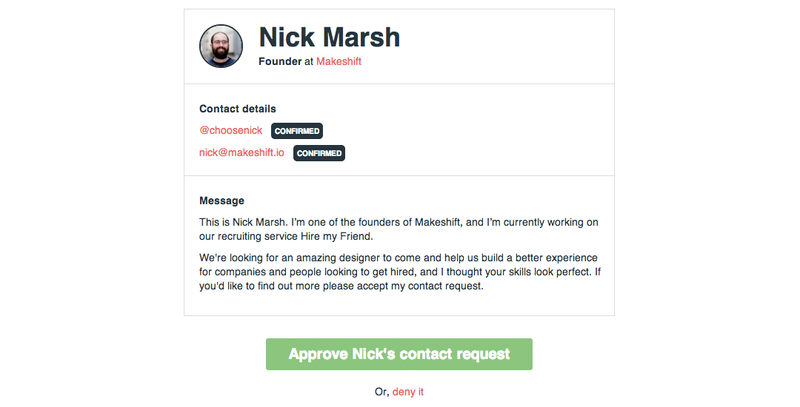 When we set out to build Hire my Friend, we wanted to take the closed, private process of friends helping friends to get jobs and make it more powerful, more open and simpler. 

At the core of the traditional introduction process is an intro email that says '[friend] meet my talented [friend], I think you guys should talk'. We've simply taken that idea, and turned it into software.
So now, if you do choose to accept a contact request, you (and your possible future employer) will get a single shared intro email with both your details included, so you can start talking right there in your email client.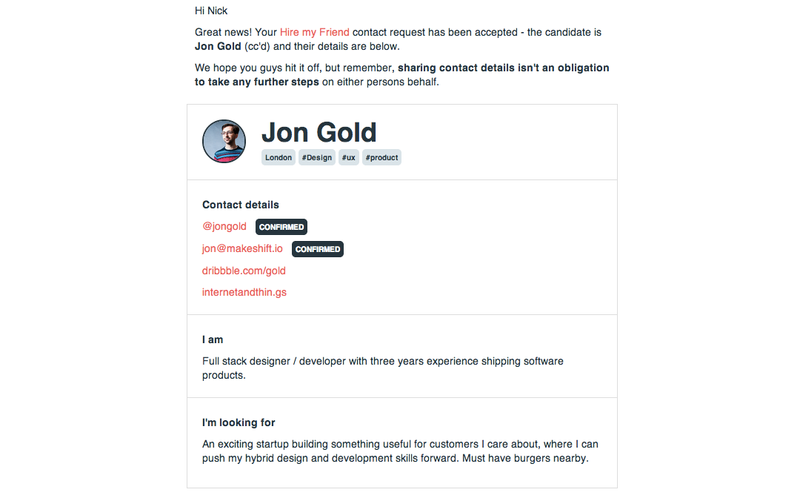 So if you are looking for an amazing new job, or you have some amazing jobs that need amazing people, head over to Hire my Friend and get started and you'll be meeting for coffee in no time!


P.S - If you are interested in the technical aspects of building email systems, we've also written up a longer post on how we're designing email at Makeshift over here.