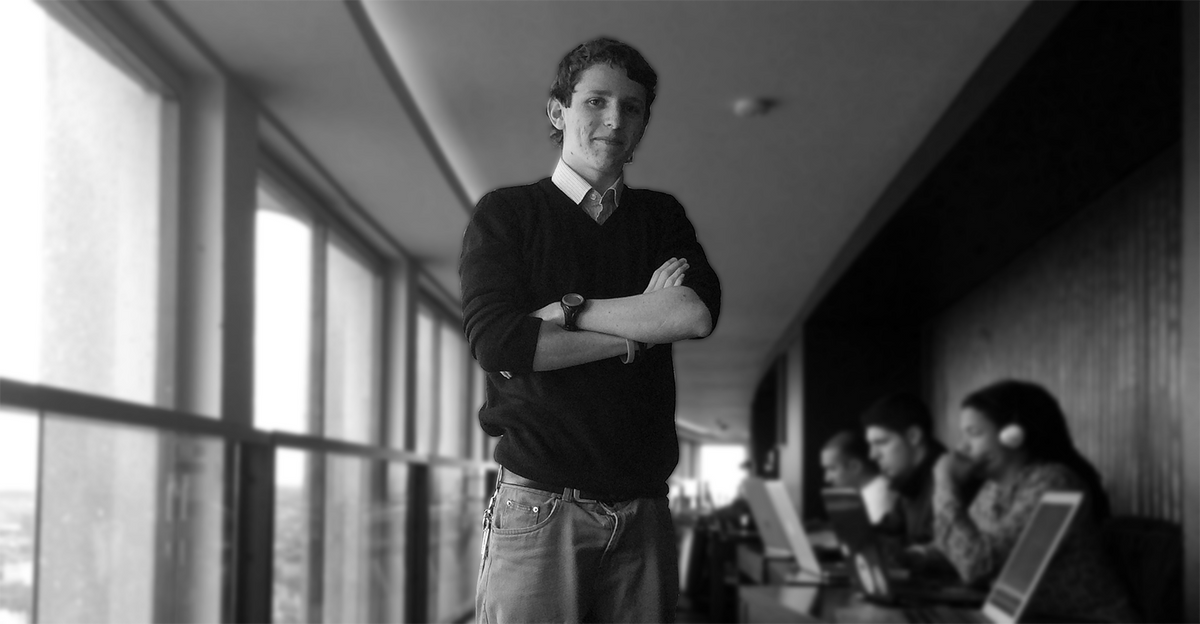 My Friend. Hired.
How Rayhan hired Joe with a little help from his friends.
By choosenick
My meeting with the Wigwamm team came with an unexpected bonus. A spectacular panoramic view over London from the top of Centrepoint, the high-rise office block at the heart of London's West End. 
"We come here quite often," explains Rayhan Omar, Wigwamm's founder, "all you have to do is phone and book in advance, and then buy a few drinks throughout the day. It's a great way to get the team thinking differently."
The team in question is currently four strong, and they are all here, lined up together programming furiously while soaking in the glorious view of east London. "You can see all the way to the Olympic park," says Rayhan, grinning enthusiastically.
Half a team via Hire my Friend!
Wigwamm, a startup company building technology products to help revolutionise the residential lettings markets, is a bit of a poster child for Hire my Friend - Rayhan's first hire Luke has been the face of our website for some time. 
So when Rayhan told us he'd found a second hire through the service, I thought I'd better come down and find out a bit more about how, and why, he's been so successful using our app.  
"I like that the people on it aren't applying," explains Rayhan, "so they can't tailor themselves to me, they just say what they are, and what their looking for. It's so simple." 
But why does he think he's been more successful than most in getting his introductions approved? "We are working on interesting stuff. We want to solve real world, hard problems. Most startups in London are gaming or e-retail. That's boring. If you want to build a real product, you can come here."
"We are working on interesting stuff. We want to solve real world, hard problems"
Beyond the nature of the work being offered, Rayhan suspects its because of the time he take to message people "I talk about the role, why I'd like to contact them, and I always make it personal."
Working at a startup vs learning at college 
At this point he introduces me to his newest hire, Joe Reeve. Joe's a young-looking guy, but I was still surprised just how young - when I asked him where he'd worked before he said, "I'm 16, so, not really anywhere! I've done some volunteering and and teaching programming, but this is my first proper job."
Joe goes on to explain more about why he's decided to get into startups at such a young age "I'm finishing off my college course in computer science, but the reason I've taken a job is that I just wasn't finding it challenging at all." 
This means that he has quite a lot of spare time, and he thought he should fill it productively. "I started programming when I was 11 or 12, and I've been to loads of hack days. So I understand lots of different bits of coding, which meant that it was taking me maybe only a few days to understand the languages they were teaching me to the level of ability required to get a distinction for my assignments - but then I had like six weeks to hang around! Anyway, so I thought I should probably get a job."
He also adds that he was motivated to look for work after a disagreement with his dad. "He was complaining at me that I didn't have any employable skills, so I thought I'd prove him wrong. I put myself on Hire my Friend, and the next day I got offered a job at Wigwamm. It was crazy, but great, especially because it didn't involve CVs. I hate CVs."
"I put myself on Hire my Friend, and the next day I got offered a job at Wigwamm"
Rayhan contacted Joe after he appeared in the Hire my Friend daily developers for hire email, and invited him down to the Wigwamm offices that day, "I spoke to him on the phone and explained that I was 16, and was that ok?" says Joe, "I didn't want to waste anyone's time. Anyway, it was fine, and I went to the Wigwamm offices the next day, said hello, and Rayhan sat me down and asked me to start programming - and I haven't stopped!"
When I ask him what he's enjoying most about his new working experience he answers immediately: "learning. I'm now learning Ruby, and Rspec on a real product. Which is crazy. It's an excuse to learn. And get paid. Its completely different to anything I've done before, normally I do Javascript and Node stuff."
Joe is certainly thinking more deeply about work than most, especially so for a 16 year old, as he goes on to say. "I think learning is one of the most important things about being a human, its what we're best at. We have a benefit of being able to learn, and its an important to use this gift everyday."
---
If you're a fast moving, open-minded digital company like Wigwamm you should sign up for Hire my Friend, and if you are like Joe and don't like CVs and recruiters, you should create an anonymous profile now.