Passion Capital special: @swipe_to, @futureadlabs, @mixlr, @gocardless & Limejump are hiring!
By copybymatt and emmemmteee
Passion Capital is an early stage VC fund for startups in London. Their portfolio currently consists of over 30 active and growing startups, all of whom are hiring. 
As well as providing funding, Passion Capital have a 7,500 sq feet coworking space called White Bear Yard that they share with several of their portfolio teams and a handful of other startups. For our rundown, roughly half of these companies are based at White Bear Yard.
---
Swipe - Senior Developer - East London
Originally from Norway, Swipe is a team of three working in a brand new office just off Old Street. Their product allows you create presentations from anything (markdown included) and makes slides look perfect on any sized screen, ready to present live and share right from the browser. 
They are looking for a super smart coder who enjoys picking up new technologies and hopefully has lots of experience writing tests. They are using Go, Cassandra, and Backbone for the app but they pick technologies based on what fits best for the job at hand. Swipe is hiring for both front-end and back-end, but generalists are most welcome too.  You can apply here.
---
Future Ad Labs - Lead Designer - Brick Lane, London

Based at the very cool Unruly Media Building just off Brick Lane, ad tech startup Future Ad Labs balances their creativity with a dedication to data-driven decision making. Their first product is called PlayCaptcha, an attempt to gamify the currently annoying Captcha experience that doubles as engaging online advertising, which is already being used by publishers like ITV and BCC, as well as big brands like Heinz, Nestle KitKat and Cillit Bang, among others. 
They are looking for a lead designer to create top quality graphic designs for PlayCaptcha and future products. Led by Dr. Jacques Kotze, the tech team has an insatiable love of learning and tinkering with new technologies. Their current stack includes HTML5, d3.js, Node.js, socket.io, AWS and Linux, but the team is constantly trying new tools and attending developer events to learn new approaches. To learn more about the role and to apply, head here.
---
GoCardless - Web Operations - Moorgate, London
The direct debit disrupters GoCardless need no introduction. Their recent Series B funding was one of the notable success stories of Silicon Roundabout and London's burgeoning FinTech scene. They've already grown to become the UK's largest Direct Debit provider, and they're taking on Europe next.
As their operations scale, the developer-led team of 25 are looking for a Web Operations specialist to join them. Familiarity with any of Chef, Ruby on Rails, Postgres, RabbitMQ and Redis would be a big plus, and a passion for building indestructible infrastructure is essential. To learn more, head here.
Limejump - Senior Developer - White Bear Yard
Limejump is based at the palatial White Bear Yard and is looking for a senior developer to join their two co-founders. This is your opportunity to be the first non-founder at their London base! 
With a stack of Javascript, Django, Python, Cassandra, Rabbitmq and Celery, Limejump is aiming to enable businesses and households to proactively manage their energy usage, thereby lowering their carbon footprint and reducing energy cost. If you love the challenge of working with big data and are fascinated by the smart grid, this role's for you! Get in touch.
---
Mixlr - Android Engineer - White Bear Yard
Mixlr is looking for an Android engineer to join their team of 8 to help bring the fast-growing platform for social live audio to Android, and beyond their existing 1.5 million users and 30,000 monthly active broadcasters. This is an opportunity to build their Android app from scratch, and there's already thousands of users waiting to use it. 
Mixlr allows people (DJs, radio stations, podcasters, journalists, politicians) to broadcast live audio and engage with listeners in real­ time without any special equipment. They've built it on a stack of Ruby on Rails, Puppet, Nginx, Lua, Redis, MongoDB, EventMachine and Websockets on custom streaming servers written in Java and C, and hosted on AWS. You can learn more about their dev team here and apply for this role here.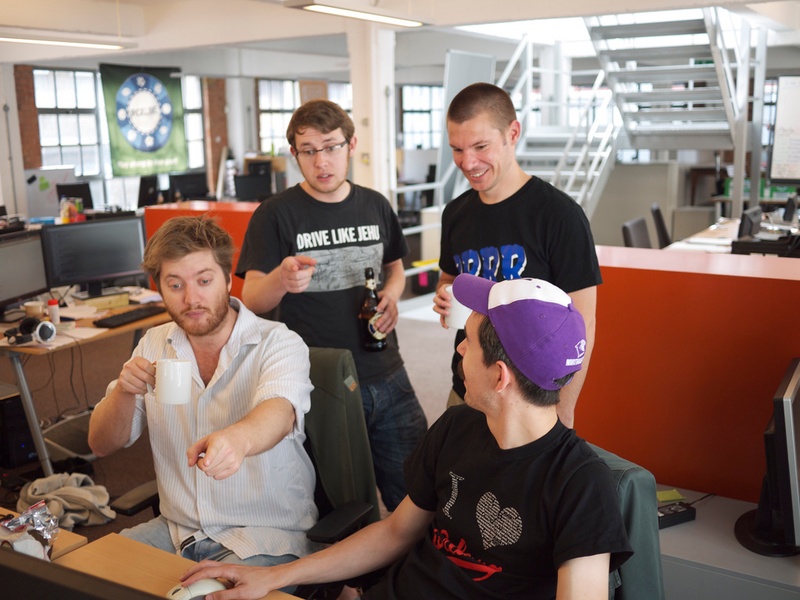 If you're keen to keep your job search private, why not try Hire My Friend to get your network to share your credentials anonymously?

---