Until death us do part
If you've ever thought about going into business with your partner, read this first
By finalbullet
Pitching with your husband, pivoting away from Flash, and all the fun of the (maker) faire. Emma Von Cooper, co-founder of Sheffield digital studio, Team Cooper tells us how she manages the impossible task of mixing business and pleasure.
What is Team Cooper?
We call ourselves a 'digital amusements agency'. We make browser games and entertaining apps – things that are amusing. It's not just games; we're interested in anything that's
fun to interact with
in a digital space. The company was started by Tim, my husband, in 2006, and originally it was just a vehicle for his freelancing. I was working at a marketing company and was getting a bit bogged down with the long hours. We'd just had a little boy, and my priorities had changed. I wasn't as interested in the busy corporate environment. Tim wanted to take on an employee, and I realised I could freelance through the business and help him to build the company into an agency.  We started hiring and building our client base.
At the time we were Flash specialists. Tim wanted to do games, but we couldn't get any games clients – so in the end we made our own. That went ridiculously over budget. We threw far too much into it. It did alright, but more importantly, we got more games work off the back of it.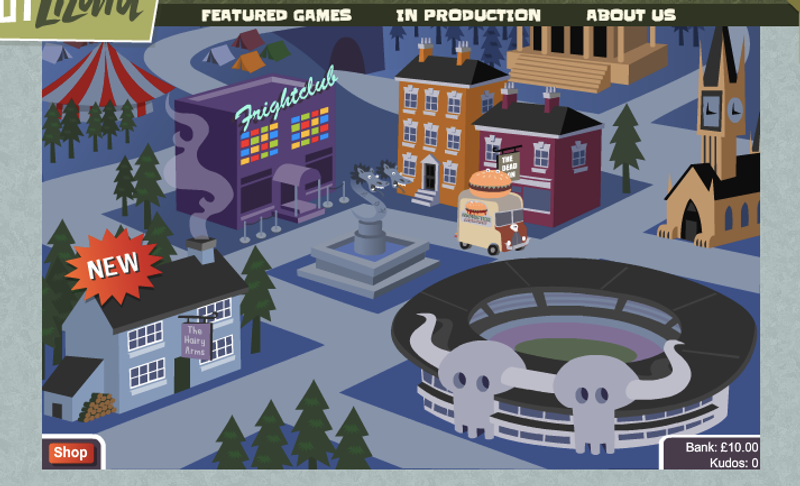 There are now eight of us. We're predominantly a work-for-hire agency, usually working in an NDA capacity with other agencies. In the last few years we've focussed on shifting from the technical specialism to the content. We're about games rather than Flash now – the world has changed, and that's forced our hand. But that's OK. We've created new workflows and taken on HTML5. It hasn't been a huge leap for the technical team, but from my side – marketing – it's been more of a challenge to switch the focus of how we sell ourselves.

How do you find being in Sheffield?
It's not a huge issue. We were focussed with getting work from the BBC, and their move to Manchester has helped us a lot. We think of ourselves as quite regionless. We work with people in the States, al Jazera kids etc. Where we are doesn't matter, but it can make meeting people a bit of a pain. It's not too bad though. There was a lot of positivity around with Lovebytes and other digital events a few years ago, but
recently people seem to have become a bit beaten down by these battles of "The North vs The South".
Tell us about the Maker Days you do. Where did the idea come from? 
Originally, I wanted to do an
O'Reilly Maker Faire
for Sheffield, but the communications broke down and it became clear it wasn't going to happen. But outside of work I'm interested in knitting and electronics! I'd been to the Maker Faire in Newcastle and
I'm really interested in the aesthetics of the whole thing
, and the possibilities in that market generally. I really wanted something to happen and I'm not very good at waiting for other people to do things.
So last year, I started calling up people. I know Paul who runs Pimoroni, and some Sheffield hack spaces, and they all agreed to be involved. Paul introduced me to Pam from Sheffield Hallam graphics department. She offered us space at the University, and as soon as we had a venue and a date, that was it. I did a load of online marketing, and didn't do anything offline at all. It was all word-of-mouth, Twitter and Facebook. 
Eventbrite was good for stats and analytics, which I'm freakishly obsessed with. We had about 200 sign-ups through Eventbrite and about 350 through the door, which was a surprise. 
It was portrayed as a family event but I was concerned a lot of it would be inaccessible to very young kids. But then Madame Zuccini came with vegetable creatures and cocktail sticks – and one of the guys brought a massive box of Lego and dumped it in the corner, which I'm going to do again!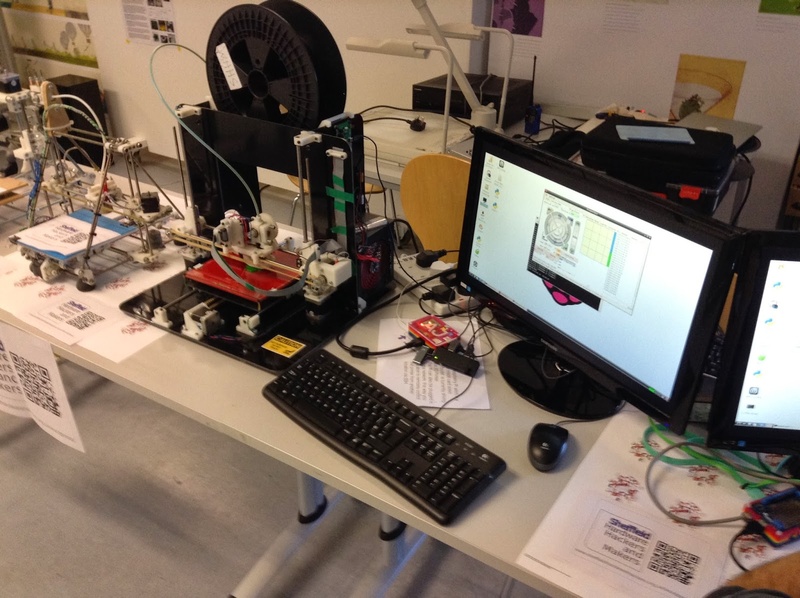 Are there aspects of the way the 'maker' scene presents itself that could turn people off getting involved?
Yes, I think people have a lot of issues around feeling like a fraud, of feeling "it's not for me". I think we're at a point in culture where everything is being surrepticiously flagged – like the excessive streamlining of children's toys into 'boys' and 'girls'. It's just shorthand; lazy marketing. In the same way, if I can't see any female faces, I might think it's not for me.
How do craft skills fit into these events?
Knitting is coding! I remember when I started to learn to knit I thought, "Well,
this is a program
! The sense of satisfaction in knitting, for me triggers all the same receptors as coding. You can look at the framework, tweak it, build on it, etc. I want it to be accessible to as many people as possible and I think with more of these kinds of events and more cool things being shared around, more people will see how exciting these things are, and will begin to see it as something that's 'for them'.
Knitting is coding! I remember when I started to learn to knit I thought, "This is a program!" 
What's it like working with your husband?
Me and Tim work well as a team. We're very different. He's very technical, very maths-orientated, while I'm linguistic and visually creative. It means that in business terms, he handles finance and legalities and I do communication, CRM, marketing and talking to people. 
There are lots of areas we share, too, but those are the things that take the time. For example, we just re-did our website and that took about three years! It's difficult to work out how to say the right amount about yourself, and there are two levels of depth – skim reading and reading in detail – both of which have to be catered for.
But the things we do together are generally the best. They're the core parts of the business. If we ever get locked into doing big pitches we tend to do those together. We're still not sure whether pitching together is a good idea though! We tend to see things from very different lights and we're quite prone to bickering. Often our ideas come from a 'discussion' about something! Some people find that endearing, others not so much.
Working together is brilliant. When it's good it's awesome and you feel on top of the world. When it's not it's very very difficult. But I'm not sure what else we'd do now. 
And our home life mainly based around childcare! (Actually – what time is it? Oh no, we're alright. Cool.) When we're at home we need to make sure we're really at home, and it's about the kids. After they've gone to bed we'll often do a bit more work. It doesn't feel like work, a lot of the time. 
Our home life mainly based around childcare! (Actually – what time is it? Oh no, we're alright)
Do you think your quality of life is better than it would be in London?

I think it is helped a lot by being based here. Perhaps Sheffield isn't that sparkling for young people but for us, the fact that we own our house; that we can walk to work every day; that it's so beautiful here; that if I don't know somebody I know I'll know someone who does – it all helps. People's attitude here is lovely. Even this pub is amazing. 
I see my friends who work in London, how hard they work, and how relentless that market is. You've got to be on the top of your game. You can't drop the ball. I like working hard but there comes a point when you just want to hang out with the kids, go for a walk – play in the park. I'm not sure how that works in London. 
The sheer volume of people that exist in London competing for the kind of work we do is incredible. Being slightly detached from that means that we can be more relaxed, a bit cheaper, a bit cooler, a bit less desperate.
We're a people business. I was talking to students recently about how much it costs to make games, and they were asking me where all the money goes. I told them: "It's all people". I know it's bad to talk about people as resources, but that's what they are! I'd rather have this environment, and be working with people who have time to spend with their families and feel inspired by life, than having staff who are constantly looking for a better opportunity or watching their back for someone who might be coming up to take their place.
Thanks Emma.