What's next for Makeshift?
We've put our 90 day business plan online
By choosenick
Since we launched our company 14 months ago, Makeshift has been on a rocket ship ride. We've learnt huge amounts about a wide range of different markets, and developed a team of people with some unique experience of what works, and what doesn't, when it comes to building software products fast. 

Towards the end of last year we began to calm down our hacking, and begin a move towards consolidating our work into the products and services that we felt best delivered on our vision of 'giving a leg up to the little guy', and that were demonstrating the most traction.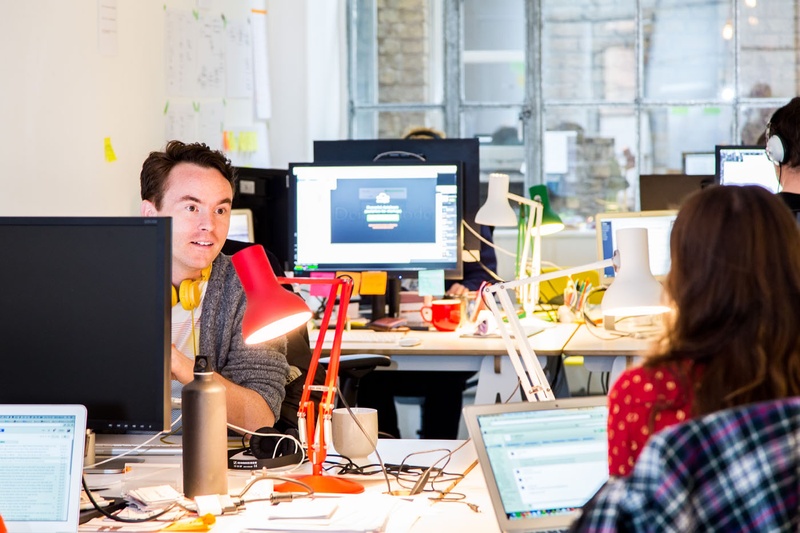 This transition hasn't been easy. The starting conditions for our company were so wide and open, that narrowing our focus has been culturally and practically a very tough thing to achieve. 
We know we need to concentrate our efforts to build a sustainable business, but we don't want to mistakenly throw the baby out with the bath water and lose our ability to change and innovate quickly. 

To help with the process of focussing we've hired two amazing people, Matt and Dave, into growth-focused roles. These are the first hires we've made where the brief is explicitly 'build on what we have' not 'build new stuff'. 
Along with this, we've begun taking our medium term planning much more seriously, and we've produced our first detailed 90 day plan, and some clear targets around growth and revenue. 
Last week I gave a presentation to the team about this new focus, and the targets. After the presentation Paul pointed out to me that this was some great content, and that we should share it with the world and get some feedback.
One thing we've always tried to do at Makeshift is tell our story, warts and all, as we go. Most companies wouldn't share an internal strategy presentation like this, but I guess we're not like most companies. 
Sharing our experience of building a 'startup studio' company has been a huge part of our company building process, so this makes perfect sense. I hope you find it as useful to read as I did to write! 
I'd love to get your feedback on this presentation on twitter or by email - I'm nick [at] makeshift [dot] io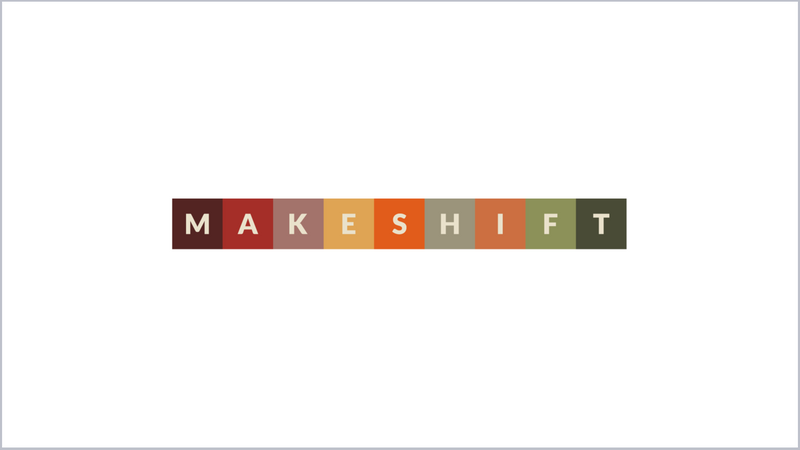 Hello. Today we're going to talk about our goals and targets at Makeshift.
As you know, we're on a journey to move our projects on from hacks into reliable, quality products that our customers can depend on.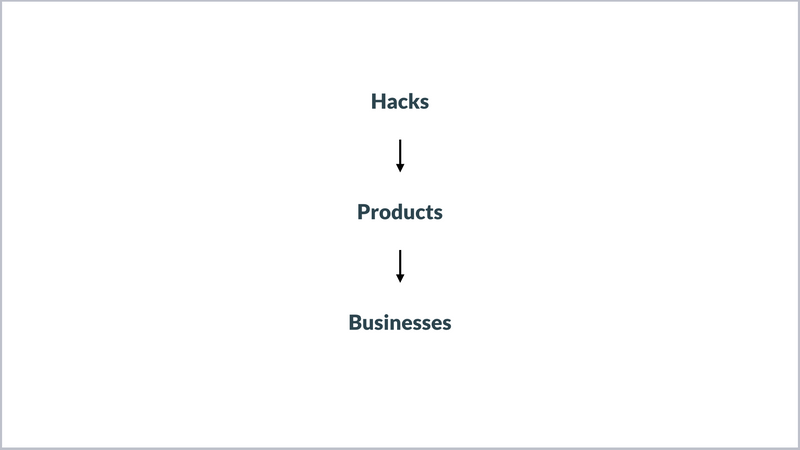 This is so we can then turn them into profitable businesses, and ensure the sustainability of our company.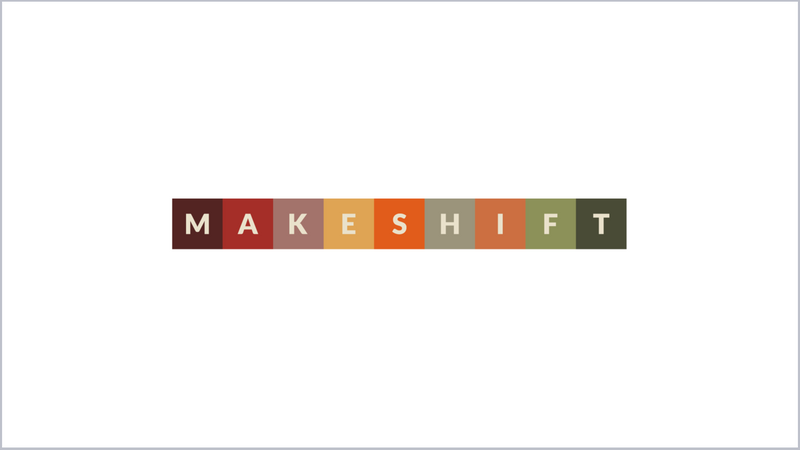 Over the past year we've built, a bit by accident, an amazing brand called Makeshift. It's a place we're all proud to work at, and one that many of our peers find really intriguing. 
When I meet people they often say "Makeshift! I love what you guys are doing!" But then they follow up with "but how do you make any money?" The answer to that question is, of course, our products.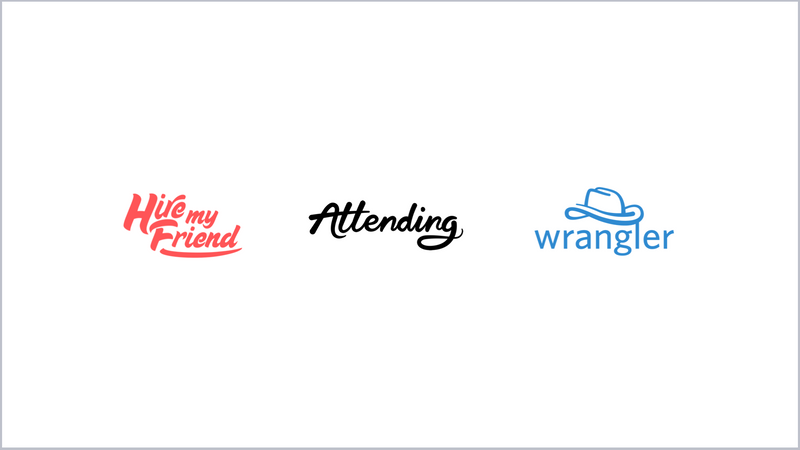 Over the next six months or so it's make or break for us. Either we're going to turn our creative energy into a business, or there won't be any more Makeshift. 
I think one way to frame the challenge is that we now need to get as excited about Hire my Friend, Attending and Wrangler as we are about the idea of Makeshift. In fact that's not true. We needs to get a lot more excited about them! And the reason we can do this is because they do really useful things that other people want.
In some ways, the emphasis on the Makeshift brand is actually holding us back. The Makeshift proposition is, at its core, a very selfish one - its a place for makers to build what they want to build. This is great, for them. But it doesn't articulate any value to any one else. 
No one can give us any money for Makeshift. You can't buy it. They can only say "I love what you're doing!" 
Our products, on the other hand, are very different. They do valuable things for customers, and, if we work together well, could become very very valuable. 
I'll get on to this in a minute. But before I talk about tomorrow, I just wanted to step back and reflect on what we have today.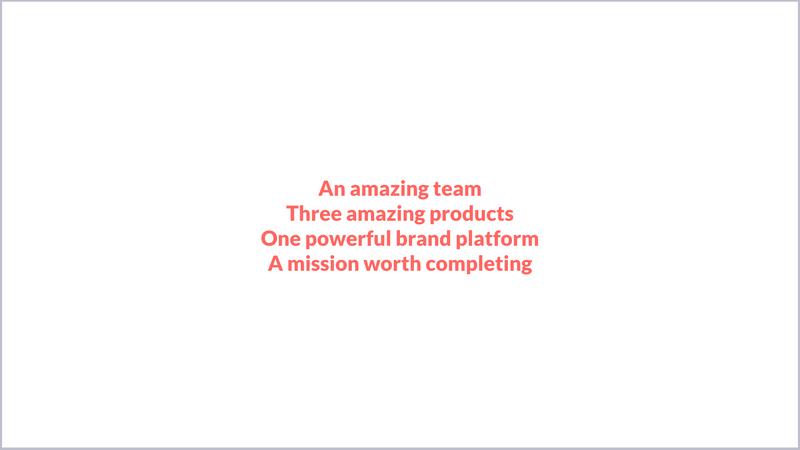 I know there's been a bit of a lack of clarity recently about the connecting vision for Makeshift, and how it relates to the work we are doing every day to build our products. 
Initially, I wasn't going to talk about this today, but when I wrote the first draft of this presentation it felt it lacked a coherent narrative. It was just a to-do list. So I've put it in.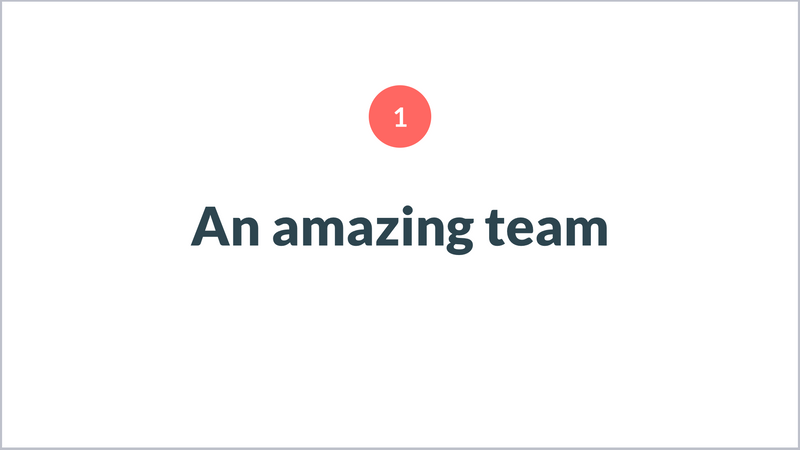 The first thing I wanted to do was to just remind everyone of the talent we have in the room. It's phenomenal. Our team is our business. Let's not forget that. I just want to remind you all how good our team is.
First, we have Jon Gold. Nominated for .net young designer of the year. We're building his idea, Hire my Friend. Jon's mix of design and development skills are incredible, and he's the first name that always comes up when I meet new people - "Makeshift? Do you work with Jon Gold!?"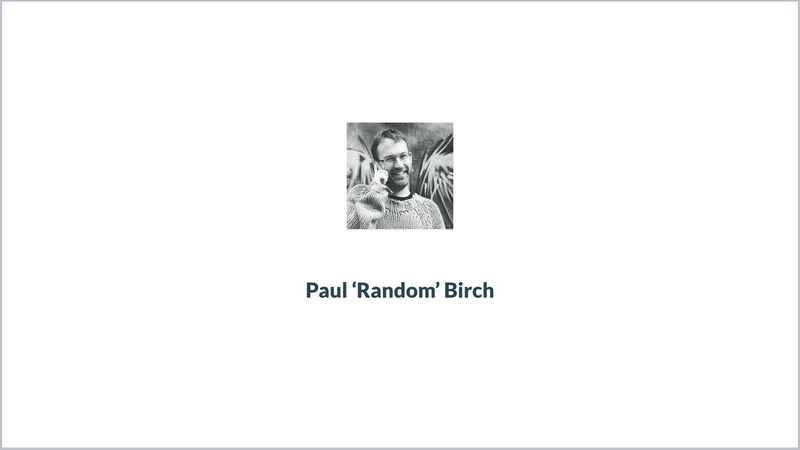 Without Paul there would be no Makeshift. His investment and vision is the reason we're all able to be sitting here. Beyond his far-sighted investment approach, Paul's straight talking approach to products and data has been hugely influential. "Listen to Paul" was mine and Stef's mantra last year, and it still is.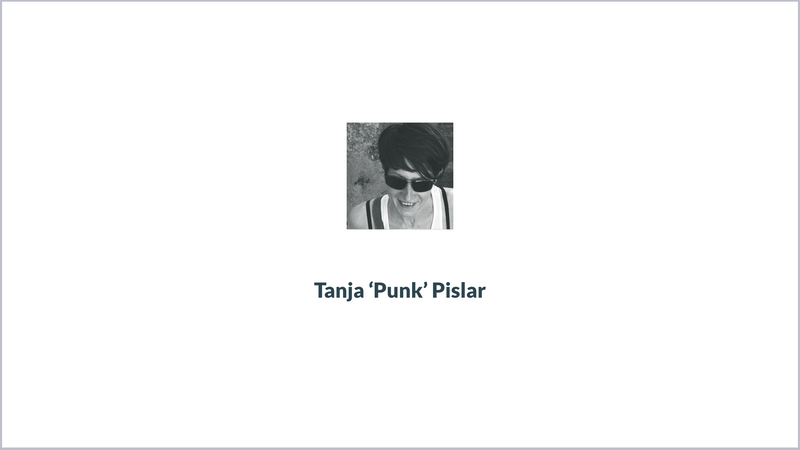 We're very lucky to have Tanja working with us. My trip to Berlin with her last year was one of my highlights of 2013, and, apart from writing rock solid code, Tanja's refreshing cynicism is extremely valuable. Will my plan pass the Tanja test is a constant worry!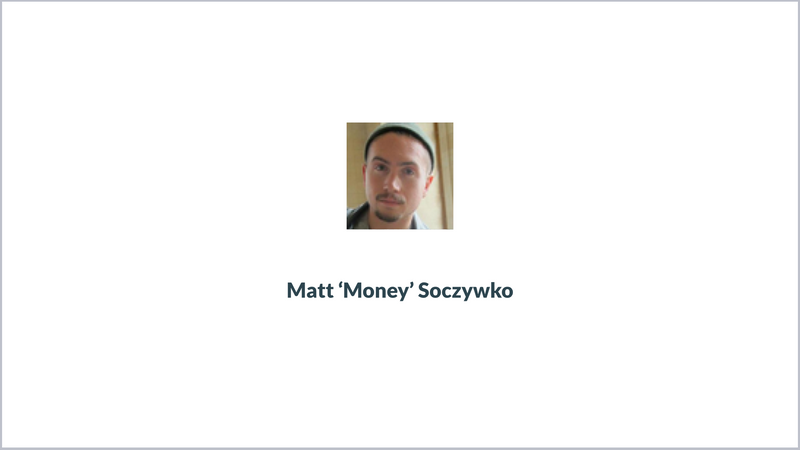 Matt only joined us two months ago, but his input has been enormous - for our company, in helping us concentrate on what matters, but also personally for me as I've learnt so much from him. In fact, I got so excited about marketing after Matt joined that I changed my twitter name to Nick Marketing.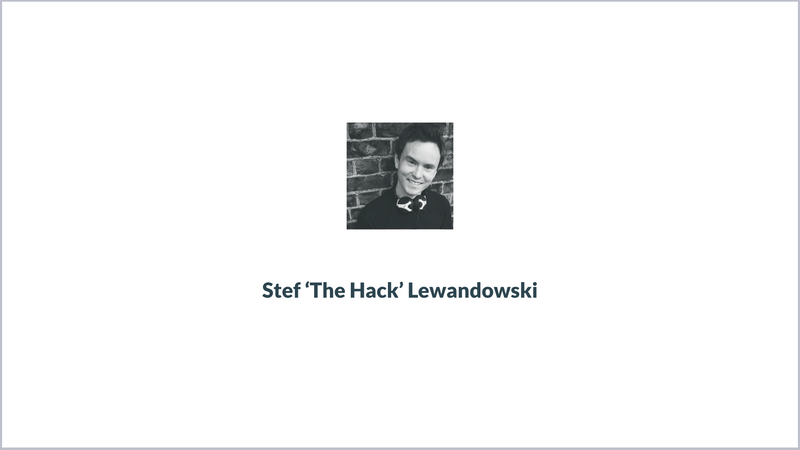 Meeting Stef was the best thing to ever happen to my working life, and it still is. The idea of a Makeshift without Stef is not possible to hold in your head! That is all that needs to be said. 
I only realised how good and well respected Dan was after we hired him! I went to Dconstruct, and he gave the best talk of the day. Since then he's spoken at other super high profile events like LIFT, and made huge contributions to the quality of the software we are shipping every day.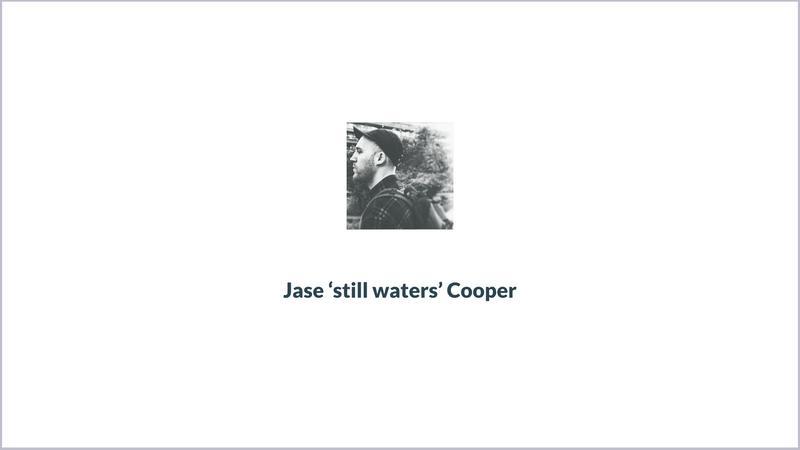 I think Jase is the best designer I've ever worked with. His work is detailed, beautifully constructed and he ships code every, single, day. His personal approach to work is also very refreshing. Nothing is too much hassle, everything can be done.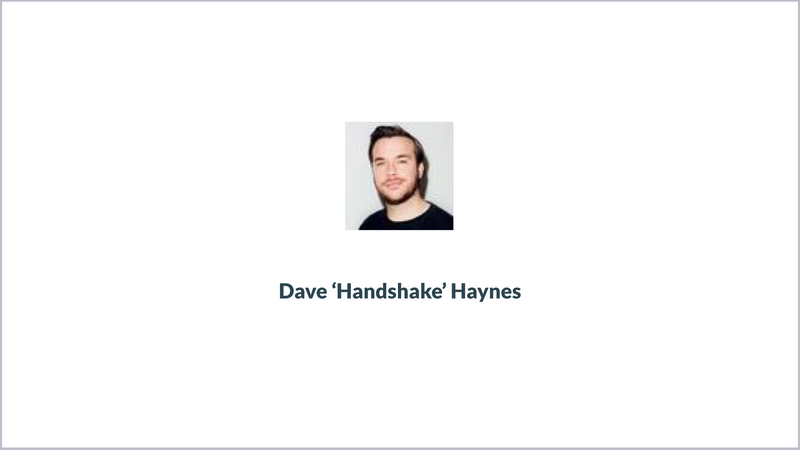 I've obviously not spent much time working with Dave, as he's only been here a few weeks. Two things jump out for me though. First, its amazing that Dave joined us at all! Of all the startups in all he world, the VP of Business Development at Soundcloud joined us. 
Second, its been great to have another very experienced person joining us at a management level - Dave's experience has already helped us improve our reporting, management decision making and focus.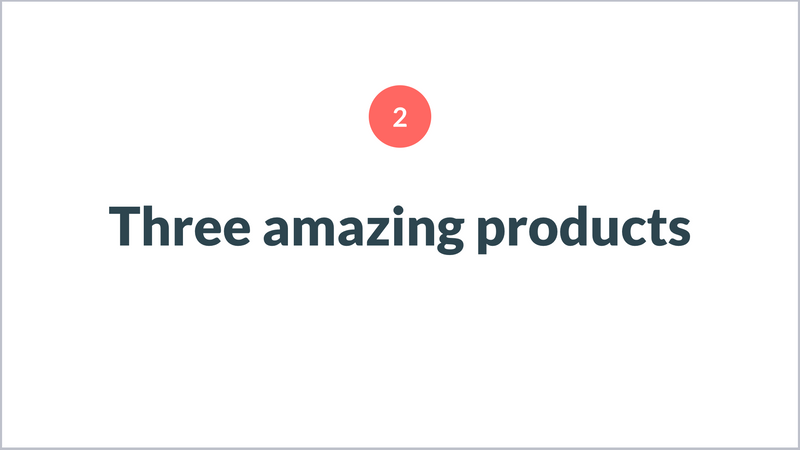 So that's our amazing team. And it is amazing. You should be very proud to have such skilled people working with you - and we have some amazing new joiners starting very soon.
Now I want to talk about our amazing products. 
As I said earlier, our challenge is to get as excited about our products as we are about Makeshift. 
And we have a lot to get excited about. We have some really useful software, that other people are getting a lot of value from today, that come with some pretty audacious ideas about transforming their respective markets tomorrow. 
Recruitment, Events and business intelligence will look very different in two years time if (when!) our plans come off.

Firstly, Hire my Friend. This product is democratising headhunting - from the candidates' perspective (anyone can join) and the companies' (it's much, much cheaper than current models).
As someone who has spent the past five years hiring for smaller companies, on a tiny budget, competing with the big players is tough. 
We're changing that, by 'disintermediating' the headhunter role, and the end result will be that the smaller companies we admire will hire better talent, and spend less money doing it. Which means they'll build better businesses. Which is good.
It's very early days, but the first weeks of this year are going well - we're up on all our vanity metrics across the board, we've figured out how to do marketing for this category, and we've got our tech platform heading towards a much better place.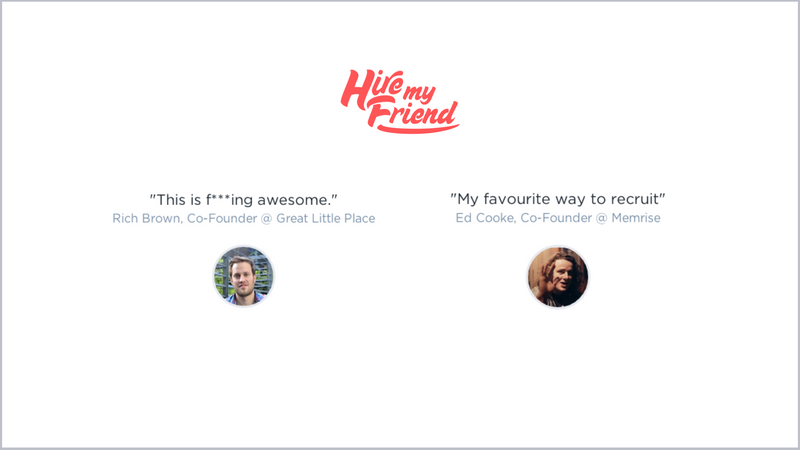 Not only that, but we have very active users who love this service. I love getting this feedback - both these testimonials were totally unsolicited. Rich and Ed both just emailed to tell us how much they love this service.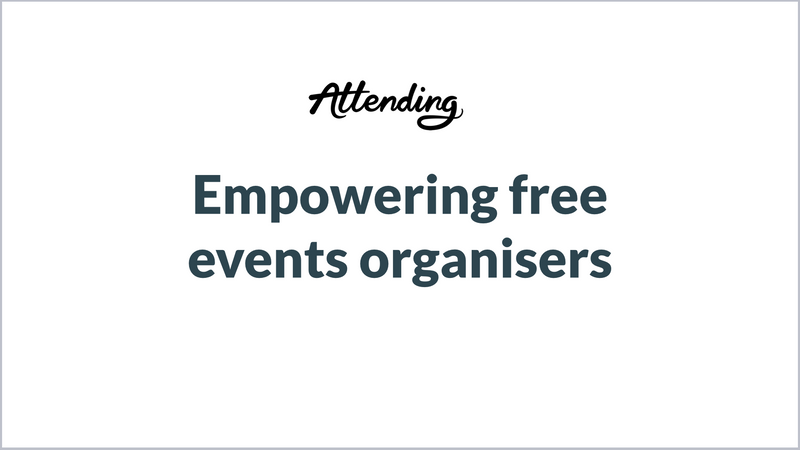 Next, we have Attending. Our Little App That Could. Attending is a very small product at the moment, but there's a fantastic big idea behind it. Our whole community, in fact our whole culture in the technology, startup and design scene, is built on a foundation of free to attend events organised by enthusiastic individuals and companies. 
We simply want to help them do an even better job, by focusing on their needs, and not trying to turn them into ticketed events organisers.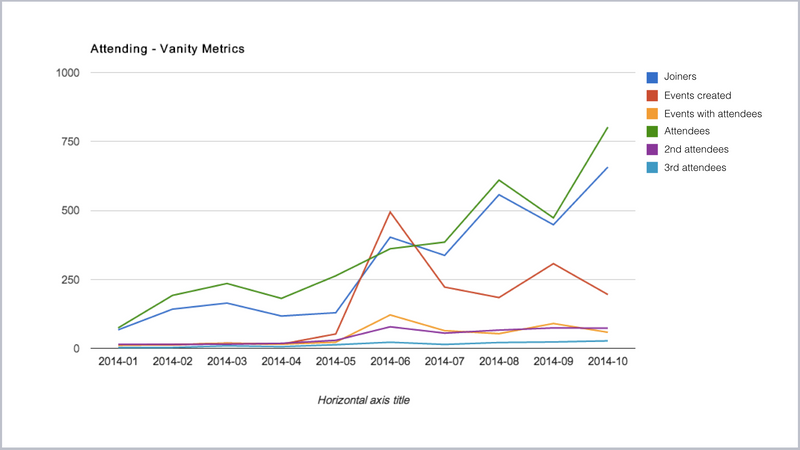 Again, its working. Our vanity metrics are strong - people love this app, and we're seeing a slow and steady increase in the number of high quality events on the platform. 
The qualitative feedback is awesome too. Hang out on the @attending twitter feed for a while to feel the love.
Finally, Wrangler. Although this is in what appears to be a bit of a traditional market, I think this product has the most transformational potential of all the things in our portfolio.
Wrangler is taking a set of analysis practices previously only available to the worlds biggest businesses and making them easily used by everyone. As every business is now in the data business, this matters.
If we get Wrangler right we can pay an important part in the huge transformation of all businesses to data driven decision making, and we'll be increasing data literacy all around the world because when you use Wrangler you learn.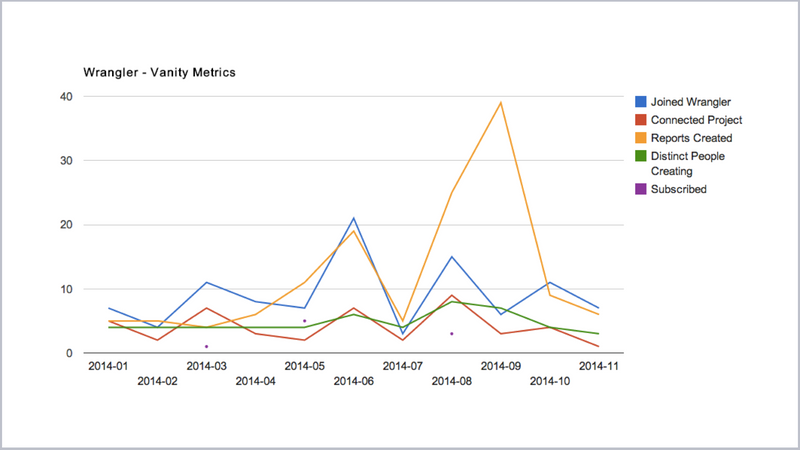 Obviously Wrangler doesn't yet have the stats we want. But we know why - we haven't tried to market it yet. Our Heroku add-on go to market will help with that, and once we have a more stable team in place we'll be able to concentrate on growing this product. 
The great thing is, even though we have only a small number of users, the ones we do have love the service. 
So those are our amazing products. I'm excited about all of them. 
In part because of the feedback we get today from our customers, but also because of the potential they have to improve the prospects of all the other small businesses we're yet to reach.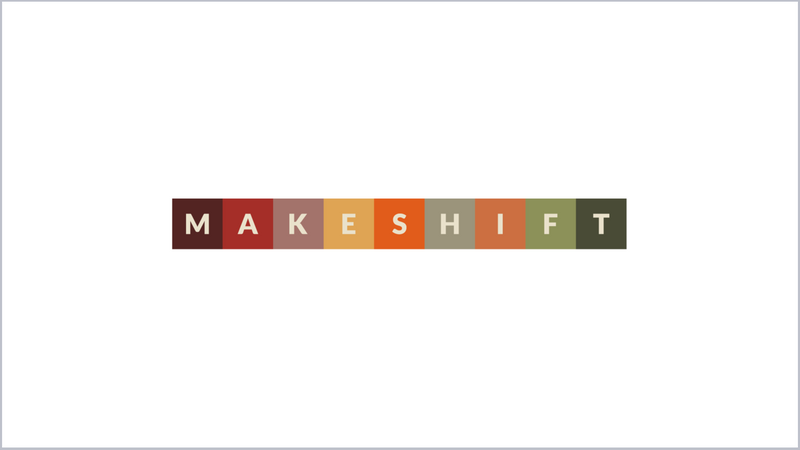 Now I want to talk about Makeshift. The creation of the Makeshift brand was one of the surprises of last year. When we started the company we saw Makeshift as a holding company, but its taken on its own power over the last year - almost to the point of becoming dangerous as its distracting from our core activity of building products for customers!  
Going forward, at least over the next six months we need to start thinking differently about the role this brand plays in our business. 
I think this is what we need to do. Realise that Makeshift is a marketing platform for our products, and move it into a supporting role, instead of a leading on. 
It's a very authentic brand that seems to speak to our core audience of makers and startup people - "I love what you are doing!" - so lets use that to help better expose our products that can really help them.
I think this is a big part of the advantage we have with our story and our brand. We're makers, and other makers love that about us. It lets us go into markets like recruitment, business intelligence and events with a very different proposition. 
We're the good guys!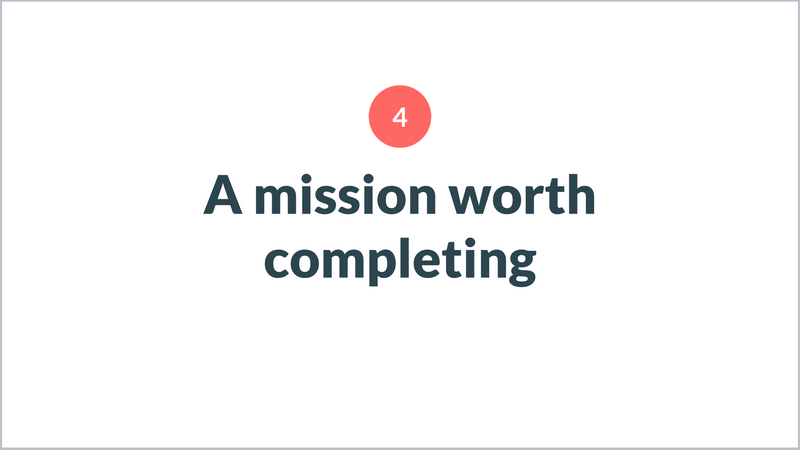 This leads nicely onto our mission. I think we have one. At least, I know I have one. I hope you feel this too.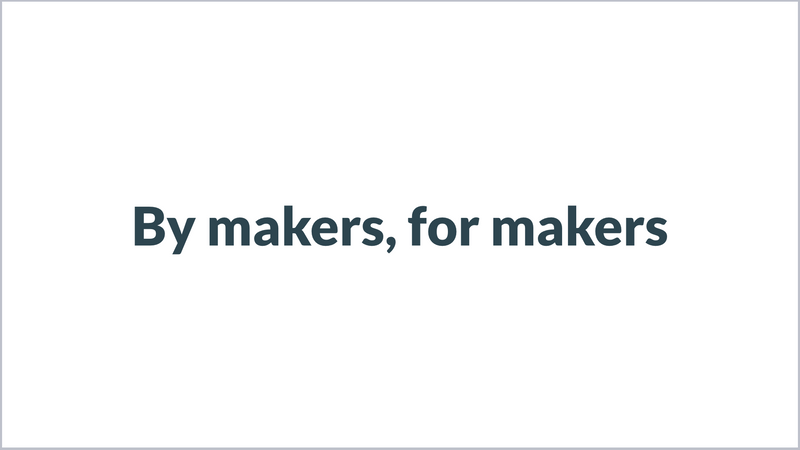 We are by makers, for makers. We are trying to prove something here. Our big bet with our studio model is that collaboration, and craft can beat other models (like incubators) that focus on competition and money. 
I want to prove that the makers should be allowed to run the show. 
And the only way to prove that, is to make our products into businesses.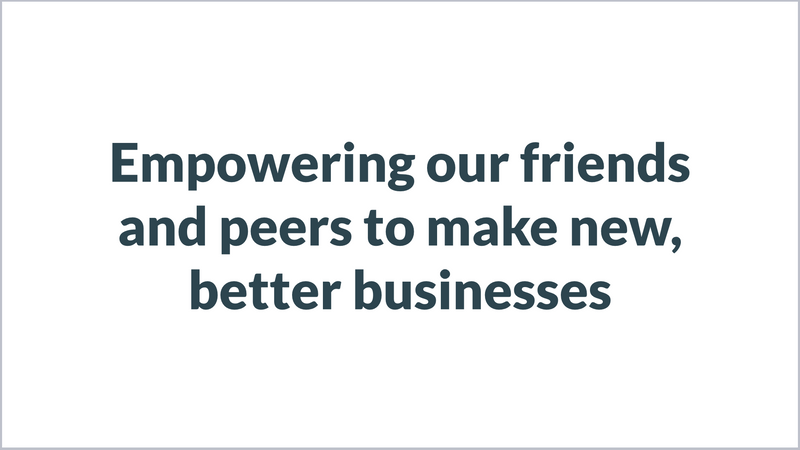 If we do that, we'll be doing an amazing thing - empowering others to make new, better businesses. I know I'm always going on about 'venture communism' and other such socialist stuff, but I feel this in my bones. We are making tools for the startup workers of the world. So this is some big stuff. Lets pause for a moment. 
As I've already said, the next six months are make or break for us. So you need to ask yourself, is this something you really want to do?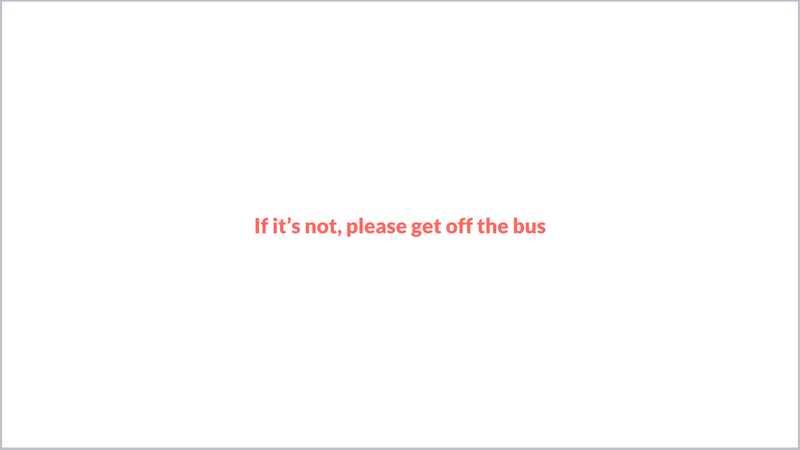 Because if it's not, you should stop. No hard feelings. 
Ntlk has already decided to get off the bus to focus more on cultural and artistic projects, and I respect that (although I'm gutted of course!) 
If you want to get off the bus too, please do it now. 
Because if you stay on the bus, now is the time to step up your game and work smarter, harder and with more passion than you have ever done before. We're trying to do too much, and do it in an ambitiously different way. So get your game face on.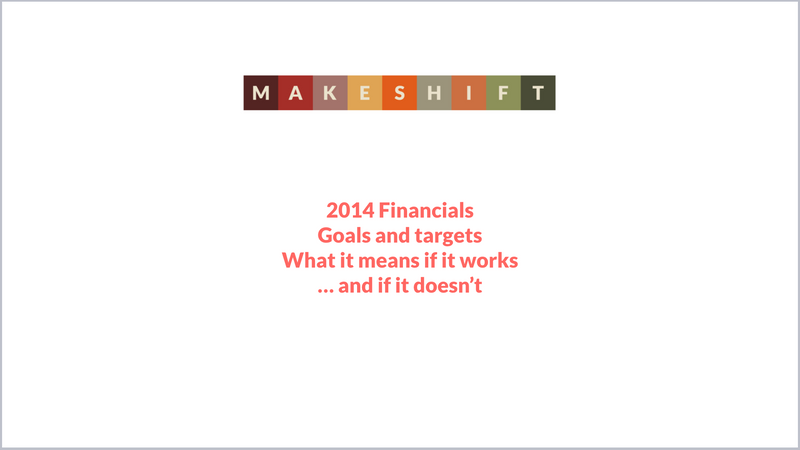 Ok, so that's the big picture bit. But the reality is that we need to focus on the short term right now. We need to pull together and ship the best software of our lives in the next three months if we're going to be allowed to complete the big mission. 
Below I've outlined our financial situation, the goals for the next quarter and concluded with what it means for our business if we succeed - or if we fail.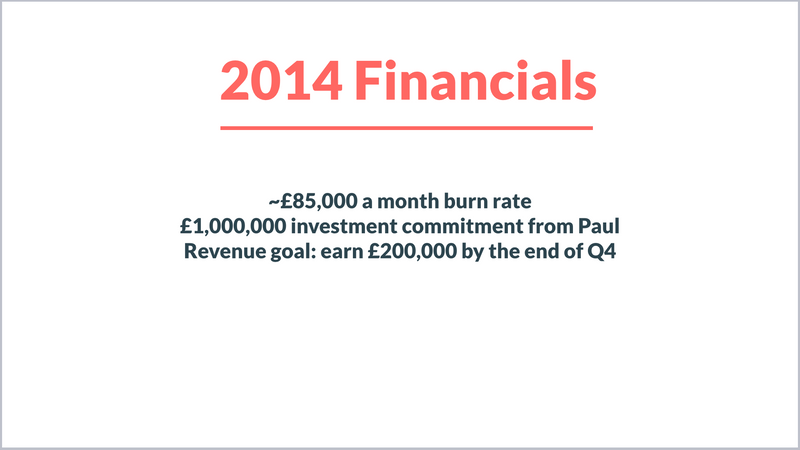 Here's a summary of our financial situation. We have an expensive business model, currently burning through around £85,000 a month, of which 75%+ is salaries. 
Paul has committed £1M this year, and we've set ourselves a 20% cost coverage target by the end of Q4, which means earning £200,000 from software sales.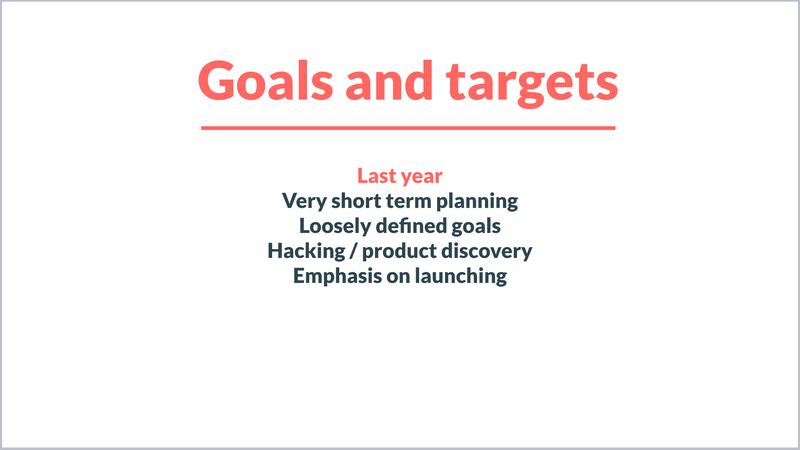 How are we going to do this? We're going to to do it by selling our products and focusing our minds on commercial factors. Last year was the antithesis of this, which is why its been tough to steer our ship onto this new course.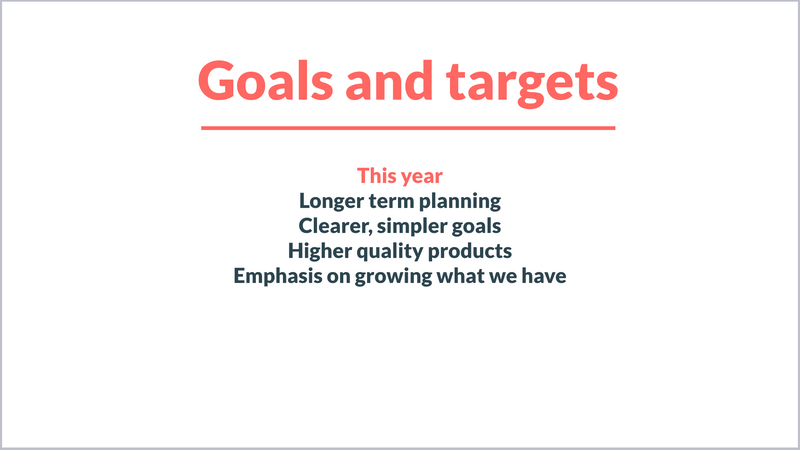 This year is different. We need to move to longer term plans, clearer goals for our work, building higher quality software so we are in control of our apps, and learning how to reliably grow our audiences. 
The first thing we're going to do to help with this is move to quarterly plans. So that means our high level plans don't change within the quarter, which means we can focus on shipping.
The second thing we're going to do is to simplify how we measure our activity during this period. So every Friday we're going to look at these numbers - week on week growth in active users, how much money we made, and how much we spent. 
Of course we'll continue analysing and instrumenting our software and business with lots of other measurement methods, but these are the three numbers that matter.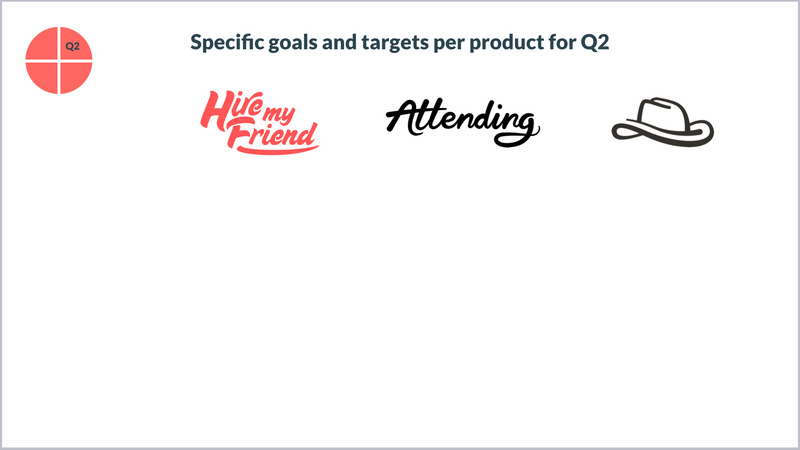 So, at the product level, because the products are what will help us achieve our goals, what are the targets?
We've got two things here. First, the way we'll measure success, and secondly the key milestones for the quarter. These won't change in the next 90 days or so (this quarter ends July 1st).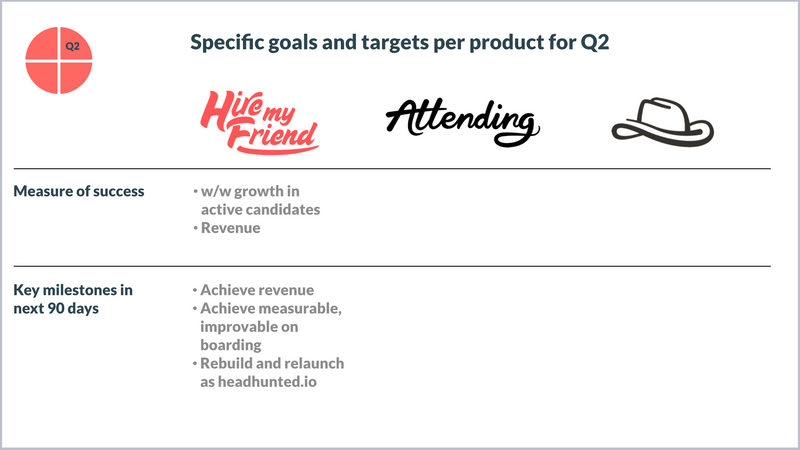 On Hire my Friend, our measures of success will be week-on-week growth in active candidates (people who get messages) and the revenue figure.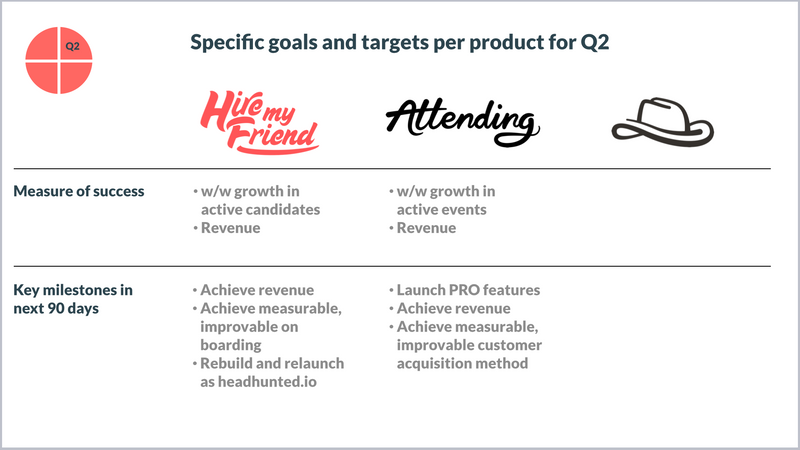 For Attending, our measures of success will be week-on-week growth in active events (events with more then three attendees) and the revenue figure.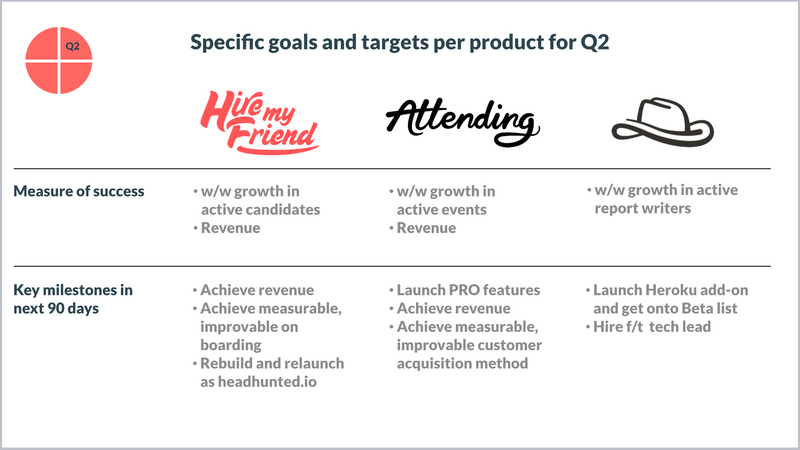 Finally, on Wrangler, our goals are a bit more modest. We will measure success in week-on-week growth in active report writers (people who write one report a week). 
The milestones will be getting onto the Heroku beta list, and hiring a full time tech lead for the product. Any more progress is nice to have, but I do expect more progress than this - its just that hiring more developers is a big blocker. 
Nearly finally, we will also be concentrating on the meaning of 'Makeshift as marketing' in the next quarter. 
We will be building out our marketing stack through this process (which is part of achieving our marketing milestones on Hire my Friend and Attending). We've formed an internal growth team, and they need to come back with ideas for how to operationalise this work.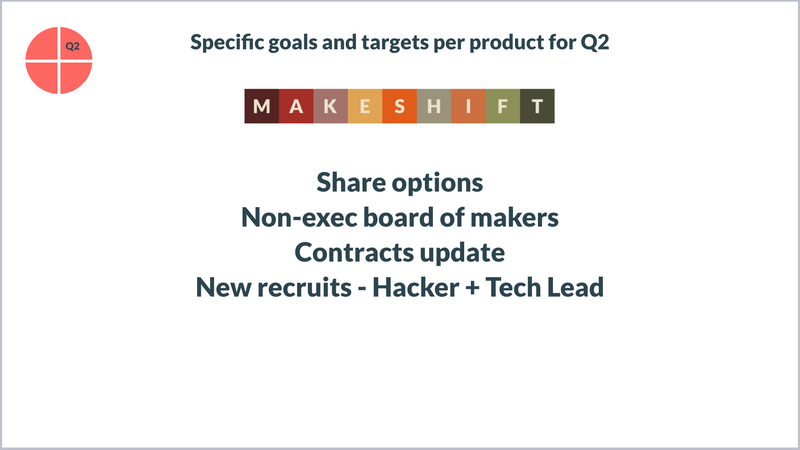 Finally finally, we have some important business level goals for the quarter - completing the employee share options, building up a non-exec board, updating everyone's contracts and hiring at least two more full time roles. 
So, if this works, the prize is that we get to continue our mission. 
We'll have options because we'll have revenue generating businesses, control over our products, control over our engines of growth and a realistic prospect of getting a return on Paul's financial investment, and the personal investments of our time. 
If it doesn't, well, epic fail. We'll have to think long and hard about how, or if Makeshift should continue. 
I don't see why we shouldn't hit these goals. They are modest targets for such a talented team.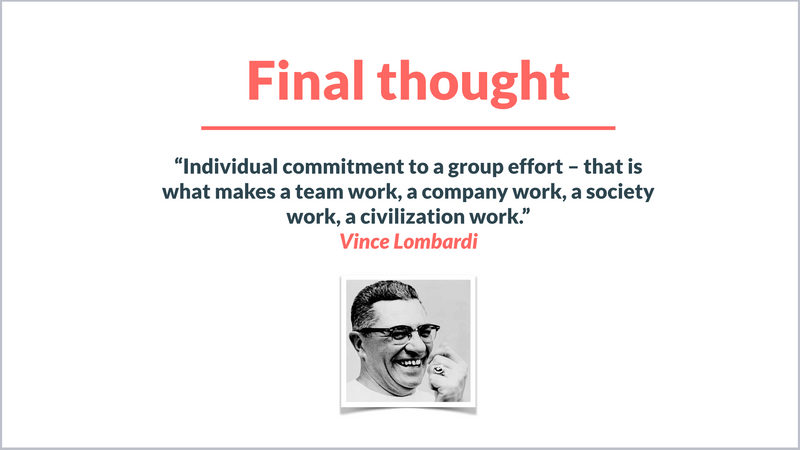 As a final thought, and a nod to Jon "Yankee" Gold, I'd like to quite legendary American Football coach Vince Lombardi:
"Individual commitment to a group effort - that is what makes a team work, a company work, a society work, a civilisation work"
This is your chance to make that commitment and prove everyone wrong by showing that makers can make businesses. 
---