Whose London is it anyway?
Following a recent Telegraph piece about the cultural spread of Shoreditch, east Londoner Paul Squires comes to the defence of his home turf
By paulsq
Economies change and places move on. If the cultural and business attitude of Shoreditch is spreading out of this always vibrant area, maybe that's not such a bad thing.
I grew up in the east end of London in the 1970s and 80s. For those familiar with the place, it should not come as any surprise to know that much of it was grotty. Brick Lane and the area around it has always been lively but fairly poor. My sojourn to "The Lane" and its market every Sunday was to see toothless old men selling anything they could from decaying market stalls, with the journey ending at Beigel Bake, where my dad knew one of the shop staff and so we used to have a couple of extra beigels thrown into our order. There was still a rag and bone man in my street in the late 1990s, calling out "ra-bone" with his bell, and taking a trip into the centre involved travelling on the Central Line, whose oak-floored, unpainted trains gave a journey experience not unlike the antique rollercoasters still touring circuses up and down the country.
Nothing stays the same
But, things change. The acres of concrete, chewed-up steel and industrial waste I remember standing on became the home of the Olympic Stadium. The corrugated steel fences (surely familiar to everyone who lived in the 70s) with "No STOLport" painted on them became London City Airport. Brick Lane and its surroundings, from Bethnal Green Road to Spitalfields, housed the highest concentration of artists anywhere in Europe.
It was perhaps the latter example which started to chip away at my thinking of what a different east London could be like. I don't recall the now-famous shop opened by Tracey Emin and Sarah Lucas in the early 1990s being in the Lane, but things were certainly changing and the old men selling, well, anything were giving way to Rastas selling dub albums and street food vendors. Adjoining streets such as Fournier Street, made internationally famous by Gilbert and George, are now houses with multi-million pricetags. I never expected to see a million-plus property in Silvertown. But, as I said, things change, sometimes unexpectedly.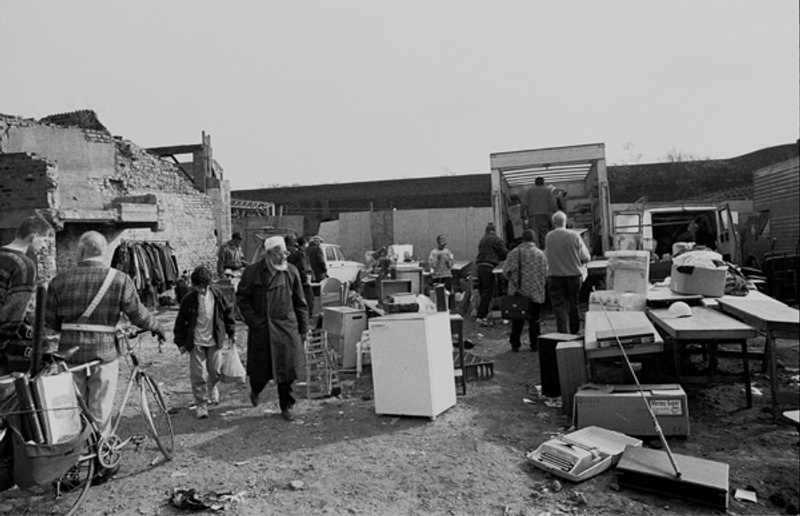 Swings and roundabouts
The Young British Artists settled in the area because, like many metropolitan enclaves of creativity around the world, it was the cheapest part of town, while still located centrally enough to only a require a bike to get around.

Now of course, the area stretching from there up to the Old Street Roundabout (with its subway untouched since the GLC renovated it in the 1980s) is the de facto capital for tech and digital media companies in Europe. The Aeropress has replaced two jars of Maxwell House for a quid. Goodbye Truman's, hello microbreweries.
Get off my lawn 
I haven't always found such change comfortable. In walking around the area and seeing devs and agency folk (I won't patronise them with the term 'hipsters'), a little part of my brain has been calling out: this is my east London. It isn't theirs –
what the fuck are they doing?
 But with my check shirt, thick-cut square glasses and trainers (although I cannot grow a beard), I'm hardly the "town" to their "gown". 
Club promoter Alex Proud recently penned a piece in the Telegraph about the "Shoreditchification of London", and that his own area – Camden – is turning into an area full of the types apparently found in Shoreditch. I don't think that he has much to worry about. If the good people of Camden want the cultural statements supposedly afforded by east London, then why not? After all, visitors to Camden Market will bump into people from around the world, so it isn't as if Camden is some kind of Stuckist republic.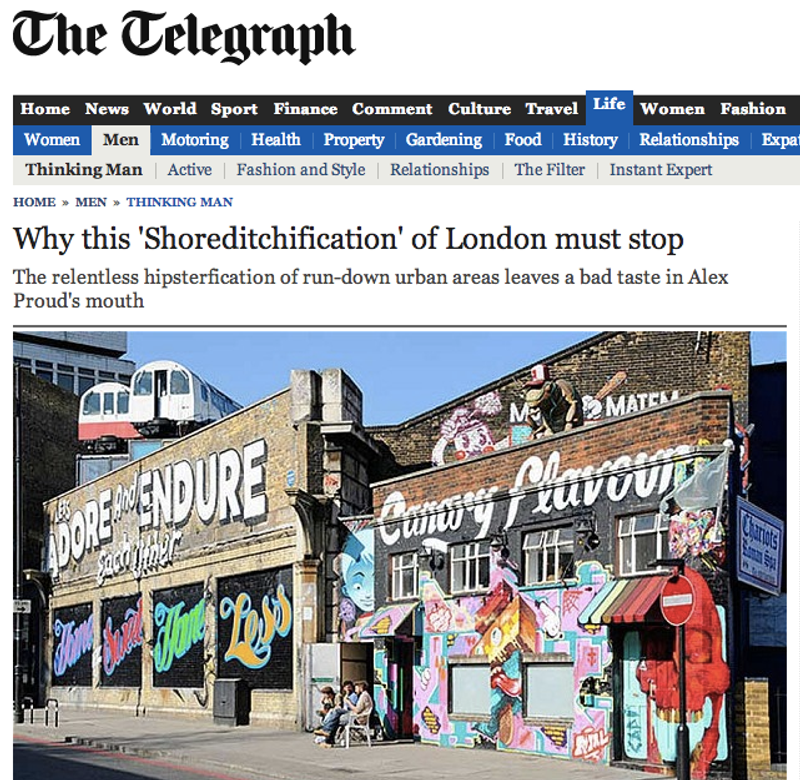 What does Shoreditch mean? 
If we expand this argument to national scale then "Shoreditchification" becomes more compelling. 
If we assume that the cultural icons of contemporary Shoreditch are independent coffee shops, small digital media businesses, and a general tendency to meet people and get shit done, then what on earth is wrong with that? 
I would much rather have that over horrid chain coffee, god-awful business parks inaccessible by public transport, and economically-depressed towns dependent on one single employer – which, sadly, too many up and down the UK are. Because small businesses are the lifeblood of the national economy, such symbols of physical and economic behaviour should be absolutely welcomed and encouraged. I'd love to see it happen in Oxford but, in my experience, the desire doesn't seem to be here.
If "Shoreditch" means coffee shops, small digital media businesses, and the need to meet people and get shit done, then what on earth is wrong with that?
Artists and digital companies have replaced and then built upon the GDP of the area. When I was growing up, this was a fairly desolate part of the city. Now, of course, people and companies are flocking there, and they spend money there. Offices sprout up in old warehouses and above shops. 
That activity then spreads out, with the Kingsland Road corridor up to Dalston now housing many such people and businesses who may not have existed without that nascent little bubble popping up in Shoreditch. It's a more subtle, more drawn-out change than the LDDC-led massive land clearance which turned the dockside desolation of the Isle of Dogs into the phallic symbols of unbridled global capitalism at Canary Wharf.

It's a subtler than the massive land clearance which turned the Isle of Dogs into the phallic symbols of capitalism at Canary Wharf 
The consequence of a rising GDP is an increase in local property prices, eventually making homes unaffordable for those living there, or wanting to live there. A recent Guardian article bitterly complained about the economic effects of such neo-gentrification but it's an argument which doesn't always ring true. 
Once, if you were once tired of east London, you would move to Essex. Now, because of Tech City, Canary Wharf and the Stratford redevelopment, the reverse is taking place, and people of all ages are moving into the area. There are still plenty of places in east London which are cheap and cheerful for the next art/tech cluster (ask me and I'll tell you), but with the current east London hotspots, I'm confident that there will still be such a mix of new and older residents that these areas can only become more diverse, more vibrant. It will be a careful, delicate balancing act.
I'm confident that there will still be such a mix of new and older residents that these areas can only become more diverse 
Peter Ackroyd in London: the Biography says that "The life of the East End has gone from within. Whether the telephone or television has effected this change is not the question... if the East seems a more denuded place, then it is also a less impoverished one... You cannot go back."
The slums, markets and music halls of old are gone. The market traders are now Skyping potential clients across the world from the back of Brick Lane Coffee. The music halls are now the Old Blue Last and Cafe Oto. But, the lights of culture, of making something from nothing, of congregation and shared experience all remain, shining more brightly than they have for quite a while.
Plus ça change, plus c'est la même chose.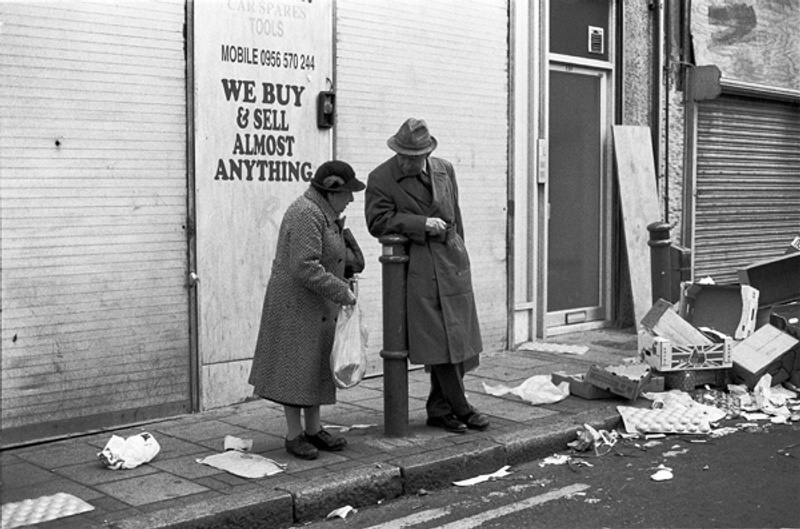 Paul Squires is the editor of Imperica.